We're not the only ones

excited

happy

about Who's Responding...
35,000+ First Responders across North America use Who's Responding daily!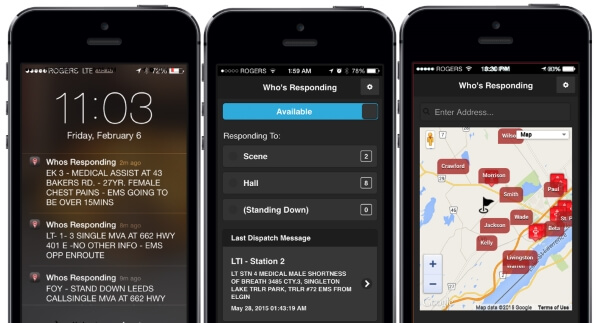 Just some of the features everyone gets to enjoy
Must have tool for today's first responders!
---
---
---
---
Dispatch messages to your phone - No Dispatch Interaction
Who's Responding uses the cellular towers in your area to send your messages. Whether you receive text or audio messages, as long as you have cellular service your message will come through. Cellular networks are constantly increasing in capacity and reliability, because of the increasing demand for excellent service. By utilizing this, we can provide service even in areas that your pager wouldn't normally work.
Who's Responding supports

Fire Departments

EMS Agencies

Police Departments

SAR Teams

Emergency Management Teams

S.W.A.T

Technical Rescue Teams
Our smartphone app is used in a wide variety of public and professional services.